Killer Mike - In-Store
Itís goes down LIVE at @DBSSOUNDSATL for the one and only @killermike INSTORE 6PM on OCT 20TH†
His DELUXE ALBUM ďMichaelĒ come out Friday, Sept 22nd w/ 3 additional new songs and we got it stocked !!
You can start purchasing right away !!
Come pick up the C.D. or VINYL and receive your wristband, which will provide you entry into the event on Oct 6th or purchase on the site !!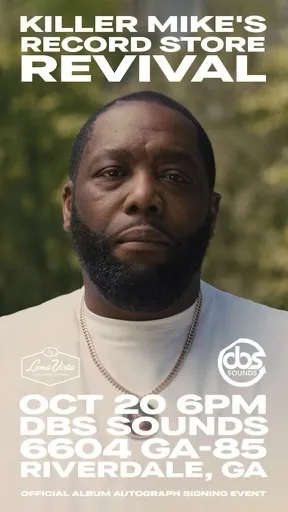 Donít miss out !! Pull up for the event

AUTOGRAPH FROM KILLER MIKE

RADIO STATION IN THE BUILDING W/ LIVE DJ

FOOD TRUCK

ADDED VALUE POSTER & MORE
**C.D. or VINYL must be purchased at DBS Sounds to receive a Wristband for†entry to the in-store**


Purchase Indie Exclusive Gold 2LP Here†
Purchase 2LP Here†
Purchase CD Here